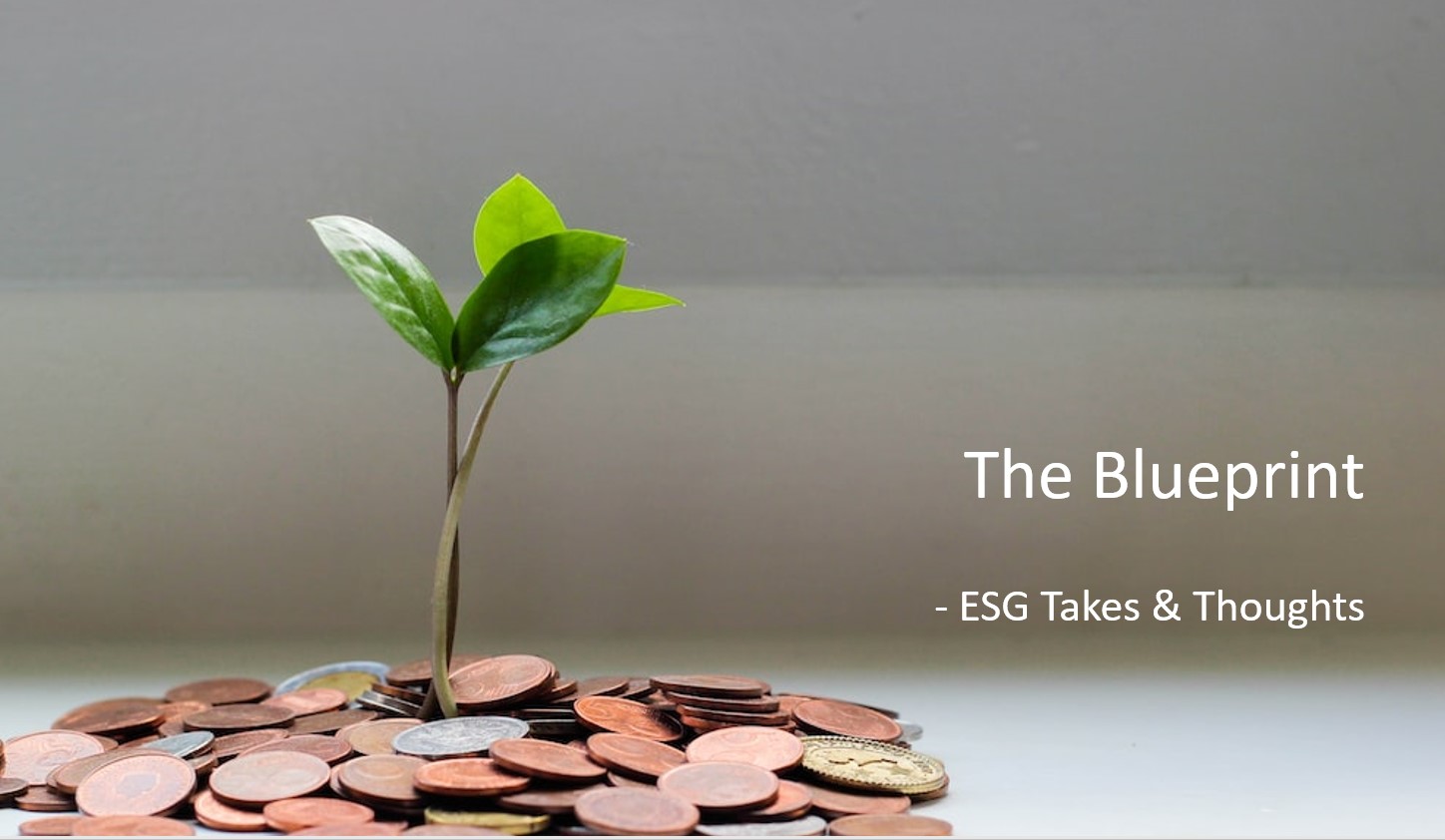 Driving sustainable energy growth : overcoming land challenges in Singapore 
As one of the most solar-dense cities in the world, Singapore has navigated its land constraints to decarbonise. Local solar capacity has surged by over 10 times in 6 years – from 60MWp in 2015 to over 630MWp in 2021. Singapore is on track towards achieving its target to deploy at least two GWp of solar by 2030, equivalent to powering around 350,000 households a year.

Solar panels can be located on rooftops or sides of buildings; Source: Freepik
Solar panels can be found on the rooftops of Housing Development Board (HDB) flats, industrial buildings, and government offices. The SolarNova programme, co-led by HDB and the Economic Development Board (EDB) has brought solar power to over 8,000 blocks since 2015 (HDB). During the day, harnessed solar supplies electricity to the lifts and lights of HDB blocks, before excess energy is channeled to the national grid.
Using floating solar to overcome land constraints
The Solar Energy Research Institute of Singapore (SERIS) estimates that solar can only meet 10% of Singapore's electricity demand in a best-case scenario. However, while the country has a small surface area, it has untapped potential for increasing renewable production.
A solar deployment programme, led by the government agency JTC, has opened up temporary industrial land for clean energy generation. In Changi Business Park, the 11.6ha of vacant land is expected to generate electricity over the next two decades, producing enough power for 3,365 HDB four-room flats annually.
Beyond land-based solar, the floating system on Tengeh Reservoir is one of the world's largest floating solar farms – boasting a capacity of 60 MWp, enough to power PUB's 5 local water treatment plants and the Marina Barrage. The system occupies a third of the Reservoir and consists of 10 floating solar panel islands made of 122,000 solar panels. To minimise environmental impact, the project adopted measures such as air pumps to maintain dissolved oxygen levels and anti-reflective coatings to prevent glare.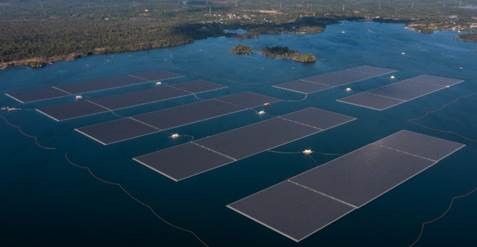 Floating solar panels can be deployed in underutilised water bodies such as reservoirs; Source: Freepik
Researchers are shifting their focus to floating solar on underutilized water bodies which are compatible with other commercial activities including desalination and hydrogen production to contribute fresh water and green hydrogen. For example, along the Greater Southern Waterfront, the relocation of Pasir Panjang Terminal and the City Terminals to Tuas could mean more land and sea space for the development of multi-purpose solar solutions.
Tidal energy
Aside from solar, tidal energy supports Singapore's ambitions to raise its renewable generation capacity. Trials to tap on tidal energy off Palau Satumu and supply Raffles Lighthouse with electricity began in the first half of 2023. This project is significant as it demonstrates how alternative clean energy contributes towards decarbonising Singapore's energy mix and reduces reliance on fossil fuels for power.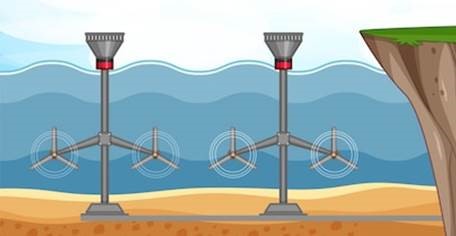 Tidal wave turbines can be deployed to turn kinetic wave energy into power; Source: Freepik

India : world's fastest growing economy embraces solar production
The IMF's World Economic Outlook July update highlights that India remains the world's fastest-growing mega economy with a 6.1% expansion in 2023, an increase of 0.2% from the IMF's April report. The upward revision was partially attributed to the country's past year performance which slightly exceeded expectations due to higher domestic investment.
Out of India's 2026's solar target of 110 GW, 65% will be deployed in the next 3 years, enhancing solar self-sufficiency in India. The country is set to second largest solar-producing country behind China (over 230GW). In addition to climate benefits, large-scale renewable deployment will create jobs, uplift livelihoods, and curb poverty (WRI). Putting in place training and safeguards to empower and upskill workers can help to secure livelihood opportunities towards SDG 8: Decent Work and Economic Growth and SDG 12: Responsible Consumption and Production (IEEFA, PV Magazine).
Japan: slow economic recovery raises imported solar equipment costs
In 2023, Japan's economy continues to experience economic gains, with a reserved pace of growth (IMF). Costs for service providers increased for the first time in three months in July on the back of a weakened Japanese yen and higher costs – including fuel, power, materials and labour. Japan's manufacturing sector has largely benefitted from more competitive exports. Japan's solar PV capacity has increased by over than 18 times since the country's commitment to diversify its electricity mix in 2012 – though increased cost pressures due to the weakened yen could potentially impact the affordability and attractiveness of importing solar equipment.
Looking ahead
The Asia-Pacific region plays a key role in providing technology, talent, and trades to power the transition. In particular, the region's vulnerability to climate change highlights the urgency to tackle climate impacts, harmful pollution, and biodiversity concerns. A just transition does not place additional burdens on emerging markets, worsen poverty, or threaten biodiversity – but shapes a more sustainable future for the People, Prosperity, and Planet.
Did you know: Water bodies in former coal pits, stone quarries, and dam reservoirs could also house floating solar panels – turning empty spaces into valuable energy hotspots!
Decommissioned stone quarry; Source: Freepik
Important Information
This material is provided by Phillip Capital Management (S) Ltd ("PCM") for general information only and does not constitute a recommendation, an offer to sell, or a solicitation of any offer to invest in any of the exchange-traded fund ("ETF") or the unit trust ("Products") mentioned herein. It does not have any regard to your specific investment objectives, financial situation and any of your particular needs.
The information provided herein may be obtained or compiled from public and/or third party sources that PCM has no reason to believe are unreliable. Any opinion or view herein is an expression of belief of the individual author or the indicated source (as applicable) only. PCM makes no representation or warranty that such information is accurate, complete, verified or should be relied upon as such. The information does not constitute, and should not be used as a substitute for tax, legal or investment advice.
The information herein are not for any person in any jurisdiction or country where such distribution or availability for use would contravene any applicable law or regulation or would subject PCM to any registration or licensing requirement in such jurisdiction or country. The Products is not offered to U.S. Persons. PhillipCapital Group of Companies, including PCM, their affiliates and/or their officers, directors and/or employees may own or have positions in the Products. This advertisement has not been reviewed by the Monetary Authority of Singapore.